Sooother™ License Information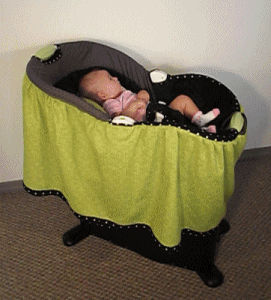 Any mother, especially a mother of a fussy infant or an infant with colic, knows that the up & down motion of the Sooother™ quickly calms babies. Moms know this and immediately "get" the value of the Sooother™. It took three Dads putting their brains together (and a significant investment) to figure out how to produce the gentle Sooother™ motion in an efficient and low cost manner. The Sooother™ is lightweight, portable and runs for hundreds of hour on a single set of batteries -- that is 6+ months of normal use. The Sooother™ is robustly protected by three US Patents (#7,395,560, #7,958,579 and #6,966,082) with more patents pending for specific design innovations.
Bloemer, Meiser & Westerkamp, LLC is seeking a manufacturing and distribution license agreement. As described in the Sooother™ Products page of this website, the Sooother™ could be manufactured and distributed as a stand alone product. It could also be manufactured and distributed as a motion base for an infant seat / car seat / travel system -- extending the benefit of these products.
For more information about the Sooother™ or to discuss licensing please contact Ed Westerkamp via e-mail (ed@sooother.com) or telephone (513.755.6667).