Sooother™ Motion with Your Infant Seat
or our Snuggling Cradle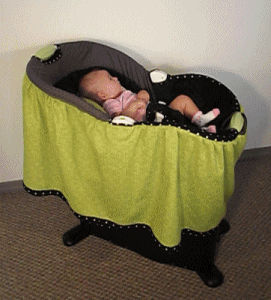 The Sooother™: Providing Mom's gentle up & down motion, the Sooother™ quickly transforms fussy infants into peaceful babies. Moms immediately relate to and understand the effectiveness of the patent protected Sooother™ motion. The ultra-comfortable snuggling Sooother™ cradle keeps baby safely in place and is easy to clean and maintain. Our super-efficient design provides more than 6 months of power from a single set of batteries.
Sooother™ Motion Base: With a simple adapter kit and the Sooother™ Motion Base it is a snap to provide our gentle up & down motion to any Travel System Seat or Infant Carrier / Car Seat. The Sooother™ Motion Base could be sold with or without a snap-on snuggling cradle (pictured above). Providing Motion Base adapters for virtually all Travel Systems and Infant Carrier / Car Seats would expand sales volume and produce significant economy-of-scale manufacturing cost savings.
Sooother™ Accessories: Additional revenue opportunities could be gained by selling accessory Sooother™ items. Such items could include: • IPOD/MP3 dock and speakers • Remote control fob and plug-in module • Active & Passive Mobiles • Replacement Pads & Fabrics • Designer / Embroidered Fabrics • AC Power Supply